The first thought in our mind when we hear COFFEE is the beautifully brewed drink with smell that is enough to waft our sleeps away. A cup of coffee is more than enough to make our mornings bright and lively.
But is the use of coffee is only limited to as drink or is there is anything more to it.
The answer is YES, Coffee is a rich source of anti-oxidants, anti-inflammatory agents and nutrients that benefits skin, scalp and hair. It can be used in a versatile manner.
In this article you can know about some amazing and versatile use that coffee holds and then implement them in your life.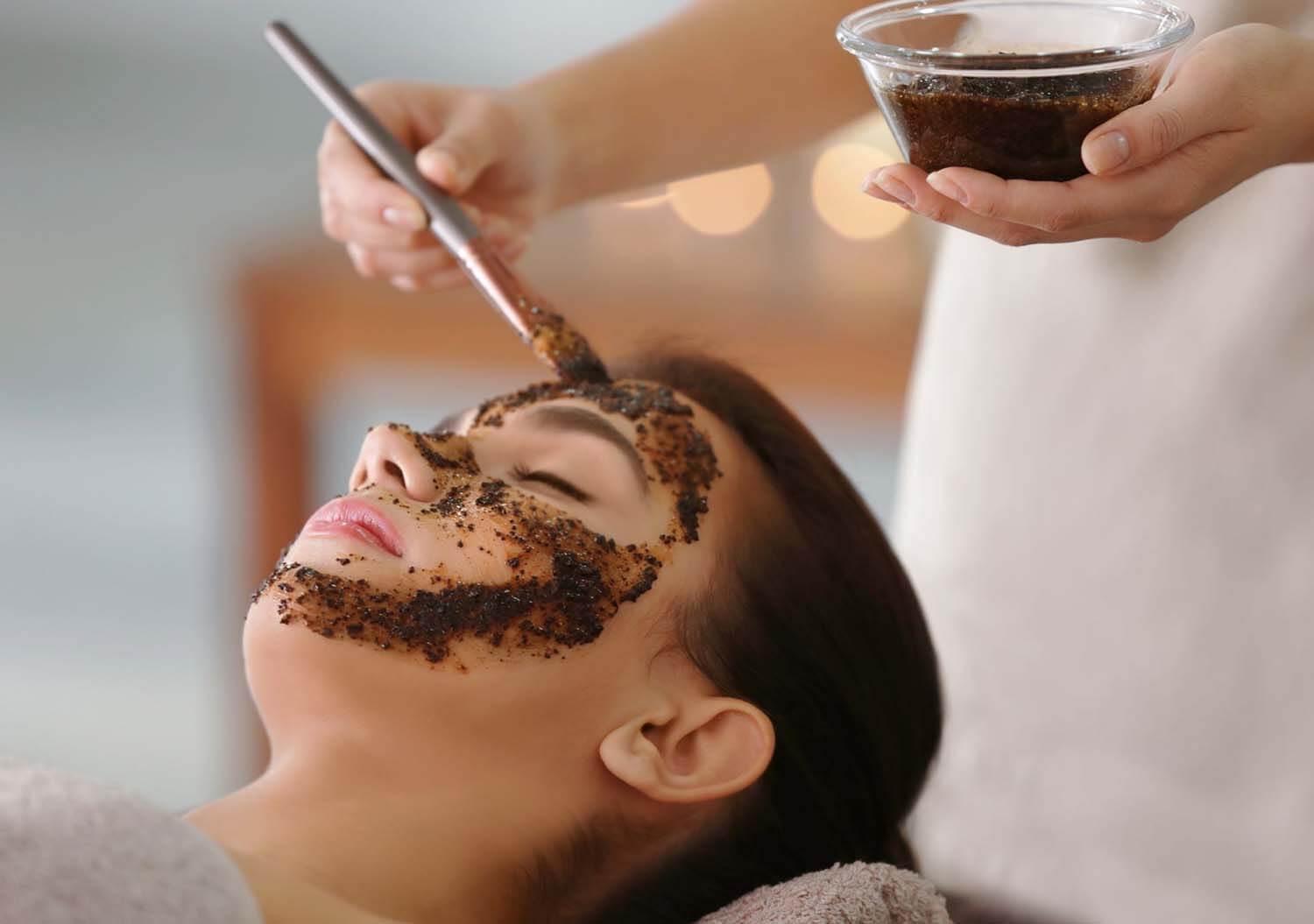 Is coffee for good for skin?
This versatile natural ingredient is not just exclusive as a morning energy boosting drink.
Coffee is rich in antioxidants, anti inflammatory property and of course caffeine al together making it a skincare loving wonder. Use of coffee in face masks, body scrubs and other skincare products give you amazing beneficial effects.
How can coffee benefit your skin?
Apart from being a popular source of caffeine that helps you kick start your day full of energy.
Coffee holds many more benefits when consumed in forms other than drinks. When thinking about using coffee for skincare, people tend to get a little skeptical thinking about skin dehydration as caffeine is a mild diuretic agent. But there is more to Coffee than just caffeine, here is how you can benefit from coffee for your skin,
Rich source of antioxidants: it has multiple anti-oxidants which act as defense layer on your skin against harsh environment factors and pollutions.
Protection from harsh UV radiation: we all are aware of the negative effects that ultra violet radiation can cause to our skin. Caffeine inhibits the DNA damage that the UV rays might cause and thus helps in protecting skin multiple reactions and problems.
Improves skin elasticity and collagen production: its tissue repair and cell regeneration properties improves collagen growth and skin elasticity making skin smooth, bright and hydrated.
Enhances circulation: coffee improves blood circulation and help in reducing puffiness, and tissue swelling there by keeping your skin energized.
Here are few basic ways in which you can benefit from coffee:
As face scrub component: coffee grounds make an excellent exfoliator for skin and help to get rid of dead skin cells efficiently.
Mix a tablespoon of coffee grounds in olive oil and brown sugar. Rub it on your face and then rinse it off. This will help in detoxifying your skin and removes the dead skin cells.
As cold compress to reduce puffiness: you can make ice cubes from brewed coffee and use them as a cold compress to reduce puffiness around your eyes
As a facemask : using coffee in your face mask help you instantly brightening your skin.
Make a paste using coffee and few spoonful of milk and apply it to your face. Leave this mask for 10-15mins and then wash it. This mask will help to remove the dirt and leave you with glowing skin.
Foot bath: coffee stimulates the blood flow and scrapes the dead skin cells.
Brew a few cups of coffee and add it to a pedicure basin. Once it become lukewarm soak your feet in it for 15-20mins. This will help in protecting your feet from dead cell buildup and keep them soft.
Benefits of coffee scrub on skin:
Caffeine is the key ingredient that makes your coffee scrub beneficial for your skin.
Improved circulation: caffeine simulates the blood circulation and help in giving your skin even tone.
Anti aging effects: The antioxidants in coffee get absorbed in the skin help to avoid premature aging problems.
Radiant skin: The scrub exfoliates the dead skin cells leaving your skin rejuvenated and fresh.
Anti inflammatory effect: coffee has anti inflammatory properties that help you in getting rid of inflammation and breakouts.
Reduces cellulite: as caffeine is a diuretic agent, when you use coffee scrub for areas with cellulite the fat cells underneath the skin shrinks.
Coffee for skin whitening:
Using coffee topically definitely helps you in lightening your skin tone. The antioxidants, phenols and other nutrients does wonders to the skin.
Here is how you can whiten your skin using coffee
Coffee, turmeric and yoghurt facemask:
Coffee-1tbsp
Turmeric-1tbsp
Yoghurt-1tbsp
Mix all the ingredients in a bowl and makesure it is lumps free.
Apply it to your face and neck in downwards direction and leave it on for 20minutes.
Wash it with lukewarm water. You can use this mask twice a week.
Coffee 1cup
Brown sugar ½ cup
Jojoba oil 1 ½ tbsp.
Green tea leaves 2 teabags
Apply the mixture gently and in circular motion before stepping in to the shower. Pat dry your skin and use a moisturizer.
Coffee and lemon juice face mask:
This mask is good for tan removal. Vitamin C and caffeine both the ingredients have excellent skin lightening and whitening properties.
Coffee powder -1tbsp
Lemon juice – 1tbsp
Make a lump free paste of coffee powder and lemon juice. Apply this to your face and neck and leave for 15mins. wash it off with cold water.
Apart from face masks and scrubs, using an eye cream containing caffeine helps to de-puff your eyes and get rid of those under eye bags.
Caffeine in the cream constricts the blood vessels and reduces lymphatic drainage there by reducing the puffiness.
You can also use coffee ice cubes for instant effect.
Freeze a cup or more of your brewed coffee in an Ice cube tray, massage your under eye area using these and you will notice an instant change.
Using coffee body scrub helps you in getting rid of cellulite, fine lines and marks on your skin. coffee unclogs the pores and leaves it with even finish and smooth texture.
Coffee also help in giving your hair extra shine, it also help in stimulating the blood flow to your scalp and make your hair healthy.
Make a paste of coffee grounds and water. Apply it to your freshly shampooed hair. Let it rest for 10mins and rinse it.
Benefits of using coffee grounds for skin:
The leftover coffee in the filter after your usual morning cup of energy is called coffee ground and has lots of benefits for your skin.
Coffee grounds has caffeic acid, free phenols and antioxidants that help in skin brightening, cellulite reduction, premature anti-aging and removing dead skin cells.
Incorporating these grounds in your skincare regimen products and routine help you improve your skin health drastically. Here are few ways in which you can incorporate and use coffee grounds to benefit your skin.
Take six tablespoon of coffee grounds and add four tbsp. of either olive oil or coconut oil make a paste. Apply this paste to your face in circular motion and gently scrub.
This helps to remove the dead skin cells and dirt, leaving your skin soft and fresh.
Mix used grounds in sweet almond oil and granulated brown sugar and make a paste.
Massage your body with this especially on the rough and areas of skin before going for shower. Rinse your body well. This polish will make your skin softer and smooth.
Make a paste using ½ tsp. of coffee grounds and olive oil. Apply it to the under eye area in gentle manner. Leave for 5-10 minutes and then rinse it.
Mix coffee grounds in coconut oil and apply gently to your face in circular motion.
Leave this mask on for 30-60minutes and then rinse off with lukewarm water.
You can also mix coffee grounds in a tablespoon honey and apply this to your face and let it dry for 15-20minutes and then rinse your face with cold water followed by a mild cleanser.
In the end you can say, coffee is multitasker ingredient which can do wonders to your skin and give you many more benefits than just waking you up and helping you survive the day.
Always makesure you are doing a patch test before using any new skincare product or trying any new skincare remedy to ensure you dont get an adverse reaction or develop an allergic response to the products being used.