What is sesame oil?
Sesame oil is widely recognized as the edible oil that is originated from sesame seeds. It is not only used as oil but also it is used as a flavor enhancer in many cuisines, which has a very nutty aroma and wonderful taste. This sesame oil is popular in Asian cooking varieties. The dishes are also made using sesame seeds in different ways.
Mostly Chinese, Indian, Japanese, middle east, south Indian cuisines use sesame seeds in dishes in different ways. Sesame oil is of two types where light sesame oil is used as cooking oil and toasted sesame oil is used for flavoring in sauces and soups.
Sesame oil has a flavor that is neutral and blends with all types of dishes easily. It adds better taste and good aroma to the dish in which sesame oil is used.
This oil also has several health benefits on consuming but at the same time it is also a common allergen, where many people are allergic to sesame seeds the same happens with oil too. Though seeds are present in oil it affects the person who is allergic to sesame seeds.
Not only for cooking the sesame oil is also used for many beauty reasons. It helps in skin lightening upon daily application on the face. If you are looking for some instant brightening skin try using sesame oil.
Sesame oil benefits for the face:
Let us know some of the benefits of using sesame oil on skin:
Sesame oil has many original properties that help to make it a most beneficial oil which can be used on the skin.
Sesame oil is packed full of antioxidants which means that the oil has the ability to fight the damage that is caused by free radicals which can cause harm to the skin.
It is antimicrobial means that it has the power of killing microorganisms and in some cases, oil can stop the growth of microorganisms.
This oil has anti-inflammatory properties that can reduce inflammation and swelling.
Sesame oil upon using on your face won't clog any pores and it was determined in a research conducted in 1989. Oil is a good option for all skin types. Having said that the oil does not clog pores so it can even work well on acne-prone skin too.
Not only the above-given data but there are several things to be noted about the usage of sesame oil.
The application of sesame oil can reduce oxidative stress, which can cause cell damage if ignored. This oil is also helpful in healing second-degree burn wounds. If a person is suffering from limb trauma apply sesame oil and massage it sometimes which gives instant relief in case of emergency.
Nutrients present in sesame oil:
Sesame oil contains vitamin E, as this vitamin helps in protecting skin cells from damage that is caused by environmental factors such as pollution and toxins present in the air while we go out.
This oil contains essential fatty acids that are effective moisturizers that can help in keeping your skin supple, soft, and hydrated.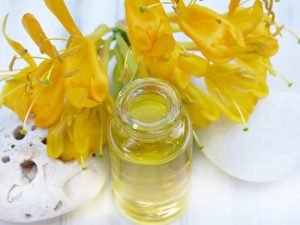 Many people may think that edible is safe for use on the skin. Here we say that using sesame oil on the skin is safe for most people. As we may not know what substance can cause a reaction on the skin. So, a patch is recommended before you use it directly on the skin.
Several steps included in doing a patch test:
Wash and pat dry part of the inner arm which is near the elbow.
Take a small amount of sesame oil and apply to the dried area with the use of a cotton ball.
Try covering it with a gauze pad for 24 hours.
If you feel any irritation, tingling, or itching sensation at the applied part remove the pad and it is not safe for you to use the oil further.
If you don't notice any sensation it is safe for you to use the oil.
Leave it on for 24 hours and then clean after the desired time.
The skin looks clearer, this is the sign that you can use oil-free and your skin is not allergic or not sensitive to your skin.
These are the steps that are needed to follow while you go for a sesame oil patch test.
When in doubt about what to use on your face for glowing skin. No doubt, go with sesame oil which helps in rejuvenating your skin.
Sesame oil also has some health benefits which help to protect us from cardiovascular diseases, diabetes, and arthritis as such. Not only this oil is used for cooking it can also be used for skin and hair and many people have been using this oil for skin and hair for more than thousands of years now.
Sesame oil for skin brightening:
The sesame plant is often referred to as the Queen of oilseeds for its wide range of benefits that will help you to deal with all kinds of skin issues and makes you achieve the perfect skin which is naturally radiant.
Here are some of the tips on how sesame oil will give you flawless and glowing skin.
This oil helps in cleansing and exfoliating the skin clear by removing all the dirt and dead cells present on the face.
Having said that the sesame oil is very sure in that it won't clog pores on your skin rather it keeps the pores clear by removing all the dirt present in it.
It is naturally rich in fatty acids and some fat-soluble vitamins, which can be a great alternative for your moisturizer keeping the skin plump, hydrated, and healthy glowing.
This oil is absorbed into the skin very easily, nourishes the skin from deep layers thus leaving it a silky smooth appearance.
All the antioxidants combinedly helps in fighting the damage that is caused on skin due to external factors. This oil is very essential in keeping your signs of aging at bay making the skin to rejuvenate the skin faster than ever. It helps in getting rid of wrinkles and fine lines on face.
Sesame oil comes with extraordinary skills that can heal dryness, infections, rashes, swelling, and reduces inflammation. This oil is suitable for all types of skins and the oil can be used as a cleanser, moisturizer, sun protector, anti-aging agent, and an acne fighter.
Oil can be used in many different ways. Try with the best combinations using the oil that helps your skin in healing.
many people may not prefer using oil directly on the skin or face then you can mix the oil with other items that you are comfortable with and apply it and leave it on the skin overnight.
At night the skin is free of dust and pollution which is the best time to heal the skin and make it feel alive. If you are not comfortable using the oil on your face at night use it when you are free from duties.
This is how the sesame oil comes with the great benefits of helping in skin and hair issues. After all, everyone cares about their beauty when it comes to a matter of looks. Try out each and every possibility to make your skin look beautiful.
Wishing you glowing skin and happiness for a lifetime.
Stay safe!! Stay healthy!!