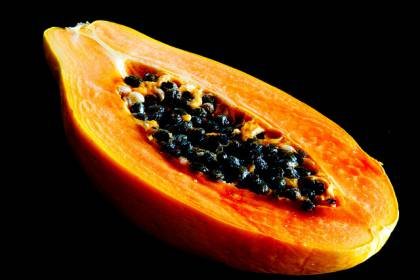 Not just digestion, this fruit can improve your skin texture. You'd be delighted to know that you can reduce acne inflammation and fade acne scars using papaya face mask.
Acne is the most common skin disorder affecting about 40-50 million Americans. Apart from teenagers, adults within the age group 25 to 44 may experience this chronic skin condition. The condition ranges from mild to severe pimples.
Experts hold inflammation to be the mere cause of acne, which affects production of sebum. Along with dead cells, excess sebum gets accumulated over skin pores. P.acnes is one of the things which worsen the acne situation. The resulted bumps are red and accompanied by inflammation.
As the demand for anti-acne creams is growing exponentially, cosmetic industries are manufacturing thousands of different products. Though it's enticing to read their claims, the effect is temporary. Natural remedies on other hand, penetrates deep into the skin and removes the root cause of ailment.
Papain is an enzyme found in papaya which breaks dead skin cells and hydrates your skin. Not just this, vitamin A and antioxidant properties in this mask will combat free radicals and lighten premature wrinkles. Other remedies which can treat acne include jojoba oil, cucumber, olive oil and manuka honey.
When acne gets treated, lesions leave a dark scar over your face. Acne scars aren't associated with any health issue, but it's a cosmetic concern. It's really embarrassing to have big dark scars all over the face. Luckily using the same natural remedies you can fade acne scars.
Papaya face mask may not completely fade scars but it can lighten the appearance.
Also read: Sandalwood oil for dark spots
How to Use Papaya Face Mask for Acne Scars?
Alpha hydroxy acids in papaya face mask helps to lighten the appearance of dark spots and scars. As mentioned, Papain can exfoliate dead cells off the skin. When you regularly use this mask, dead cells along with impurities will be removed.
Instead of spending huge money over chemical products you can just bring one ripe papaya, make paste and then apply it over the face daily.
Unlike cosmetic creams, this face mask is soft towards your skin. However, people who're allergic to latex must stay away from this face mask.
#1. Mix papaya pulp with milk in a clean bowl. Wash your face with lukewarm water so that the blocked skin pores open up. Now, topically apply the papaya mask evenly over the affected part and leave it to dry naturally. Yes, you can place two sliced cucumbers over your eyes to get that spa experience.
#2. Mash papaya with manuka honey or raw honey; rinse your face just as mentioned in the above step. When the skin is still damp apply the face evenly and leave it. Humectant and anti-inflammatory properties in honey will hydrate your skin and also treat acne.
#3. This is the easiest way, eat the delicious papaya fruit and keep its peel. Now rub your face with papaya peel evenly all over the face. Needless to say avoid eye contact.
Best time to apply papaya face mask for acne scars is morning or evening. Let us know how you feel after trying this inexpensive home remedy.